03-29-19
Warrington Kia Service Tips: Connecting and Using Bluetooth
While receiving delivery on your new Kia vehicle, ask the Gateway Kia Warrington PA customer sales representative to explain your Bluetooth connectivity features. We've included the do-it-yourself (DIY) steps below, but we suggest having a Gateway Kia trained professional explain and show you how to use the options.
Pair your Bluetooth enabled smartphone(s)
Ensure your contacts download successfully.
To start the pairing process, press the green or white "Call" button on the steering wheel or the PHONE hard key on the radio/navigation.
From your phone, turn Bluetooth on and search and select your vehicle's name on your phone. Choose the name that matches the name on the radio/navigation screen (Kia Motors).
Next, follow the instructions on the phone to confirm the passkey displayed and select "OK" or "Pair" on the phone to complete the pairing process.
Be sure to allow your "phonebook download" or "contact sync" on your phone, and accept all requests for future auto-connection.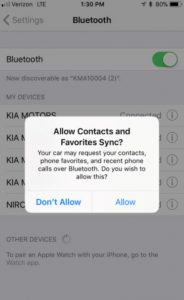 If you require more specific instructions to pair and connect additional phones, we suggest referencing the vehicle's user manual.
Don't be concerned if you see an error while connecting Bluetooth, there is a simple fix. Delete your phone name from the Kia onboard screen and delete your Kia vehicle name from your phone's Bluetooth list. Then, turn your phone off and back on and begin the pairing process from the start. This will establish a new connection.
Pairing in a vehicle with Premium Navigation (AVN 5.0):
Pairing in a vehicle with UVO eServices System or UVO Link (UVO 3.0 or Display Audio 1.0):
Pairing in a vehicle with UVO Play (Display Audio 2.0):
Pairing in a vehicle with Standard Audio System (Audio 4.0):
How to place a call
You can place a call either by using the green or white steering wheel control "Call" button, the touch screen, or the voice recognition (if equipped).
How to receive a call
You can receive a call using the onboard touch screen or the same green or white steering wheel control button.
How to stream audio
After connecting your phone to your Kia vehicle via USB or Bluetooth, and setting your phone to allow streaming, press the "Media" button to find Bluetooth Audio Streaming mode.
Media Volume
Ensure that the listening volume on the phone is turned up (Bluetooth streaming is dependent upon phone volume level).
Connecting Android Auto or Apple CarPlay
If equipped, see our Kia Service Tips article on using Apple Maps, Google Maps, and Waze.
Using the new text messaging feature
If you own a 2019 Optima, Optima Plug-In Hybrid, Niro EV, or K900, you will be able to send and receive text messages directly through your vehicle with a smartphone connected via Bluetooth. You must have an active UVO subscription in order for this feature to function.
Note: The texting feature is device dependent; users with Android smartphones have full access while iPhone users only have "Read" access.
Keep in mind that Bluetooth functionality and compatibility depends on your phone and operating system version. We recommended you keep your phone updated with the latest released operating system version. This helps both Kia and phone manufacturers continue to correct issues and add new features.
Interested in other Quick Tips for using your Kia features? Check back often to see our latest articles, or email your Gateway Kia Warrington PA customer service representative with comments or questions. Here at Gateway Kia Warrington, we aim to provide you with the best customer service. If you're searching for Kia dealers in PA and live close to Gateway Kia Warrington near Philadelphia, stop in and experience our dealership for yourself.
More From Kia of Warrington

Warrington Kia Service Tips: Shift Before Ready
Warrington Kia Service Tips: Intelligent Variable Transmission
---